Cambri hire two outstanding leaders to accelerate growth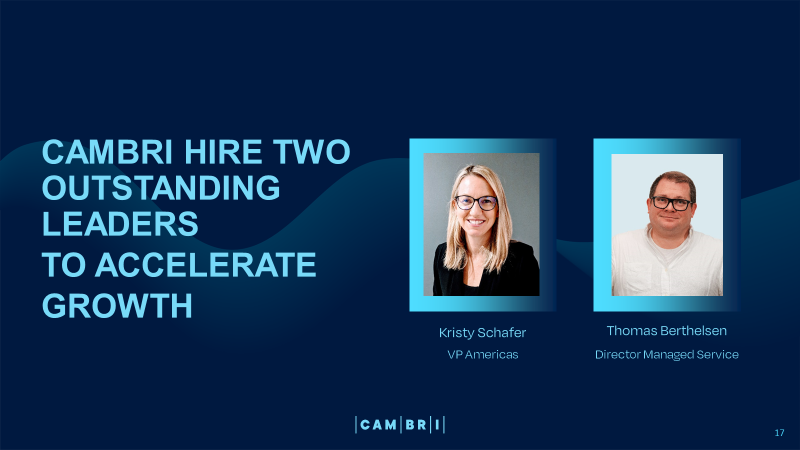 November 1st 2023 – Our leadership team is growing! As our business continues to accelerate and thrive, we are excited to announce that we have hired two powerhouse leaders to join the Cambri management team. A warm welcome to Kristy Schafer & Thomas Berthelsen.
Thomas joins Cambri to lead our Managed Services team, and further develop our full-service consultancy offering. Whilst Cambri is a self-serve innovation intelligence platform, we are experiencing increased customer demand for added value services with customers wanting to tap into the breadth and depth of knowledge and expertise in our business. Thomas's appointment is a direct response to this, and his experience of building highly skilled analyst teams and delivering advanced, business critical insights from companies like Nepa and Norm will enable us to provide best-in-class services that complement our technology and deliver a more holistic customer experience.
'I am beyond excited to join Cambri, to work once again with former colleagues and focus on my true passion and expertise, smart, strategic consumer insight and innovation. I am particularly proud to be working for a technology business that is challenging the institutionalised view that innovation is hard, and that most NPD fails. I am looking forward to working with a stellar portfolio of customers and driving the value we offer them.'
Kristy, joins us as VP US Sales, the first of a number of hires in the US as we look to support new customers in this territory and focus on scaling our business outside of Europe. Kristy brings a track record of successfully helping tech start-ups to open in new markets and grow rapidly, having done so repeatedly throughout her career at Meltwater, Wildfire and most recently Permutive. Kristy's experience in helping customers unlock the value of their data is a great fit with Cambri, as we support consumer brands centralise their pre & post launch data and leverage AI to increase innovation success.
'When I first met the team at Cambri, I immediately felt a sense of belonging. The business has been extremely successful by sticking to its core value proposition – leveraging consumer data & AI to drive innovation success. The team is full of super smart energised people who love what they do, and I look forward to being part of a high performing group of people. My focus will be introducing Cambri to America and driving the business to new heights.
Both new hires are experienced and outstanding leaders in their field, and we are delighted to welcome them to Cambri. We have no doubt they will strengthen our management team as well as challenge and drive us to deliver exceptional value to our customers and continue our accelerated growth trajectory.
About Cambri
Cambri is a global res-tech growth company born in 2018, with headquarters in Helsinki and Stockholm, and offices across Europe. Cambri provides teams with an agile approach to product development, resulting in more successful launches to bring only purposeful and long-lasting products and services to market. 
To learn more about Cambri, please visit cambri.io
For media enquiries, email news@cambri.io