Cambri launches proprietary NLP solution to amplify innovation
Why is Natural Language Processing (NLP) relevant for consumer brands and product innovators?
Product innovation is about identifying novel ways in which consumers create more value for themselves with the help of new products. In the context of product innovation, surveys have been mostly used for validating assumptions and ideas on a mass scale rather than listening to the consumer in depth. Learnings from consumers' open-ended answers to surveys have been underutilised simply because it takes from hours to days to analyse them. What a waste!
Modern product innovation is all about learning fast from consumers and iterating product ideas accordingly. The traditional way - running qualitative and quantitative research as separate projects - just does not make sense anymore in many innovation projects. It is too expensive and takes too long. At Cambri, we wanted to go beyond the traditional method. Our proprietary NLP solution makes quantitative research also qualitative, where we get rich insights from the earlier neglected open-ended answers, and product innovation is amplified!
What is uniquely valuable in Cambri's proprietary NLP solution?
We investigated commercial solutions available to serve the need of the modern product innovator: learn fast and in depth from open-ended answers to fuel the creative mind. Our investigation showed that what we were looking for did not exist on the market. The current NLP solutions did not fit well enough in the context of product innovation: exploring consumer aims, pains and needs, and investigating new products, services and brand ideas in the survey context. We understood that we needed to create our own proprietary NLP solution.
At the heart of Cambri's proprietary NLP solution is our taxonomy based on academic learnings on how consumers create value for themselves and make decisions. Each open-ended answer is automatically tagged with one or more topics, highlighting how different classes of the taxonomy are represented in that answer.
Cambri's NLP taxonomy draws on​ how consumers create value for themselves and make choices:

Each category includes several topics. Open-ended answers are classified under these topics.​
This taxonomy feeds Content Analysis so that Cambri clients get an understanding in seconds:
1) What consumers are talking about, and
2) What is their sentiment: positive, negative or neutral.
After getting an overview, Cambri clients can easily dig deeper, pick up a topic that is important, and read through open-ended answers one by one in their native language or in English. Easy and insightful!
The results make profound sense since the topics used in our content analysis relate to consumers, use occasions, values and benefits that consumers are looking for, as well as actions they are expected to take. Consumer brands learn fast and get inspiration, and innovation is amplified!
For example, let's consider spontaneous reactions toward the pack design of a sustainable milk brand
: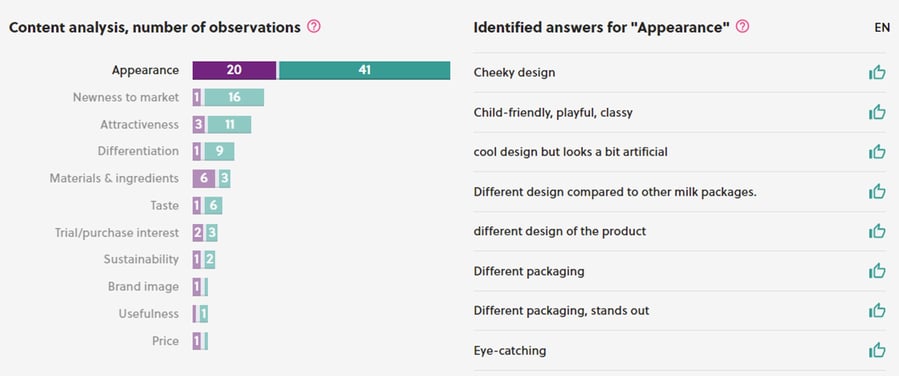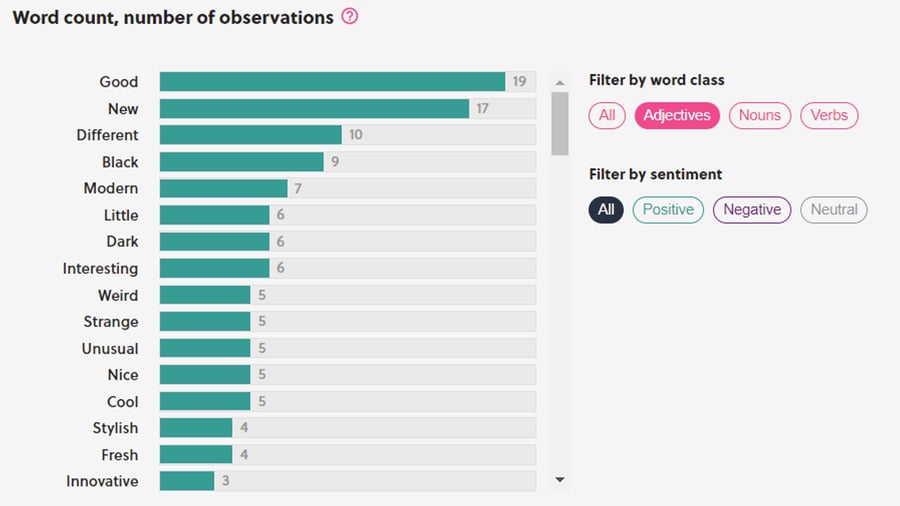 How did we create Cambri's proprietary NLP solution?
It all started with creating a vision of what kind of a solution we want to create to serve the aims of the modern product innovator: super-easy access to wide and in-depth insights from open-ended answers. Just like with our Cambri tool, our NLP solution was also a co-creation project with our clients. We created a prototype of Cambri NLP with international food and dairy company Valio, and then later during the project validated it with our other consumer brand clients.
The actual product development was run in four interconnected streams:
Product Design team working on the vision and user flow, co-creating with our clients

Research team working on training data needed for creating "the AI" around NLP

Data Science team working on the technology architecture of the new NLP feature as well as creating and iterating NLP models

Software development team working with Cambri tool implementation.
Training data used to create the core of the NLP solution is massive and continues to grow. Our researchers have gone through 27,000 sentences from open-ended answers to develop cutting-edge training data. These sentences create the core of the vocabulary that the AI then uses to understand open-ended answers. We continue to include new topics in an inductive manner: we let the data speak.
Want to hear more about Natural Language Processing? We look at how NLP can help you leverage open-ended responses and gain more insight from consumers in our webinar.
Authors:
Dr Heli Holttinen
Dr Outi Somervuori
Dr Tommi Pajala
Dr Hongyu Su
Dr Timo Erkkilä
Dr Apramey Dube