De-risking innovation - webinar overview
This article is about our webinar on De-risking innovation: How smart ring company Oura is securing successful product launches
In a world where there are so many options to stay on top of our health and wellbeing metrics, how did a small Finnish company reach international recognition, create a whole new category combining personalised health data and jewellery, and bag a partnership with Italian fashion house Gucci?
In this webinar, Liliia Troianenko, Hardware Product Analyst at Oura, walks us through the health tech company's strategy and innovation process. Read on or watch the recording here.
You'll discover:
How Oura is

creating a new category

combining fashion/jewellery with personalised health data
How user research enables Oura to iterate and speed up the innovation process
Why Oura starts their innovation process with quantitative user tests instead of qualitative
How consumer insights are bringing the different stakeholders at Oura together, from R&D to Finance to Marketing to ensure successful product launches


00:02:30 What's on the menu?
Host Dr Apramey Dube introduces speaker Liliia Troianenko and we learn about Oura's background and history to date.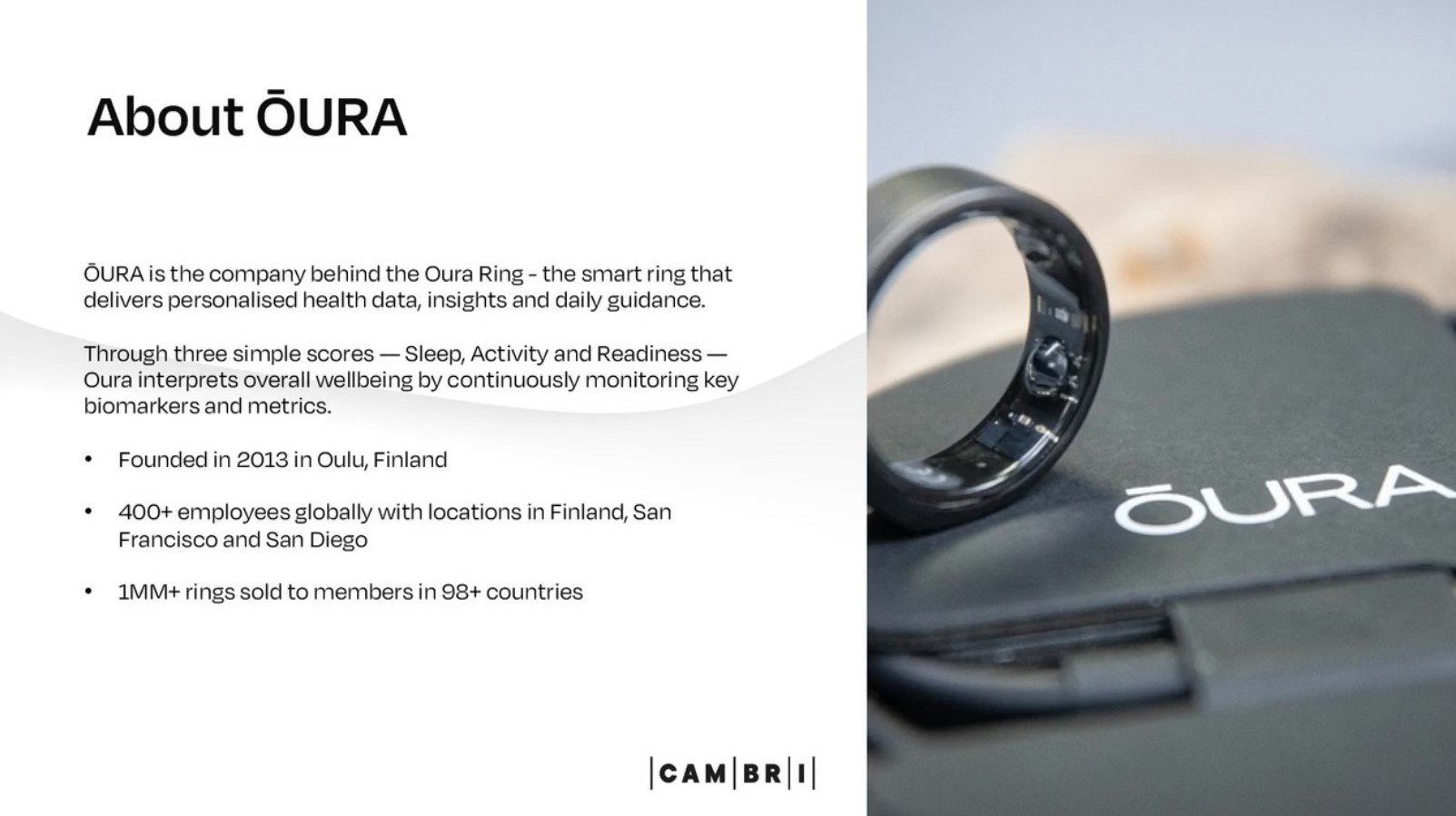 00:09:10 What differentiates Oura from the other big players?
Liliia explains that while the Oura Ring has impressive features, it's their mission that truly sets them apart from the competition.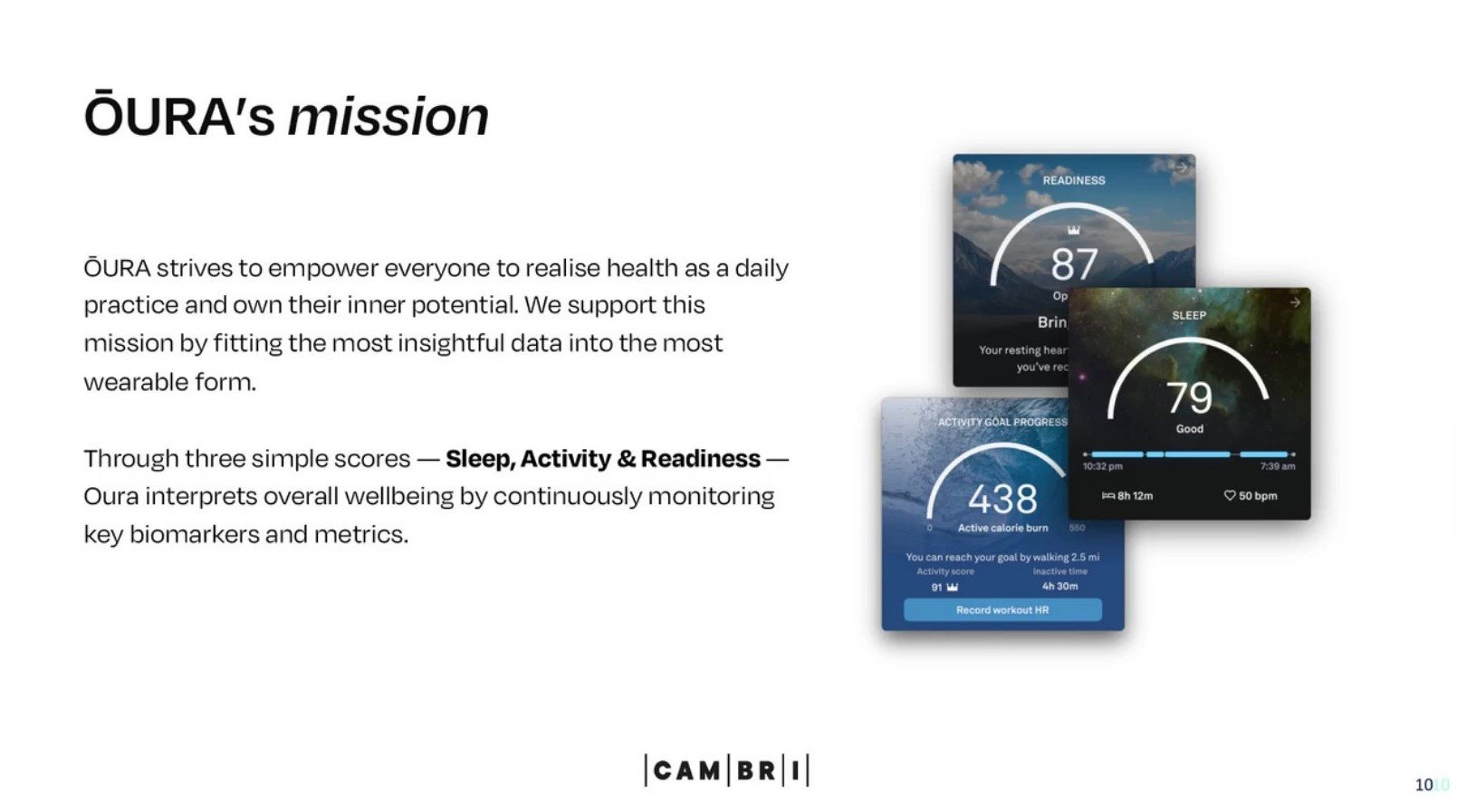 Oura wants to empower everyone to realise health as a daily practice and own their inner potential. Oura doesn't force wearers to do unrealistic activities; they realise we are all human beings with different capacities and motivations. There are multiple factors that contribute to us feeling well and we all take different time to recover and Oura supports this.
00:08:35 A closer look at the Oura smart ring
Liliia shows us the different gen 3 ring ranges and colours currently available on the market.


Apramey and Liliia discuss specifications, coding and pricing data, and the audience votes for their favourite ring - which coincides with testing data Oura obtained before launching these shapes and colours. No surprises there then!
00:13:35 Minimising risk in innovation
Liliia discusses the importance of being able to secure successful product launches and the impact on the company. Oura is still a relatively small company and doesn't have the luxury of studying what competitors are doing in the same niche. She explains that they can't compare themselves to smart watches as the size is completely different. They have to define their category carefully and be selective about where to invest resources.
Focus is key here to ensure they don't launch something that is too broad or too niche. That's why user testing plays such a vital role in innovation at Oura. They simply can't afford to fail.
00:16:05 Introducing hardware analytics
The term 'hardware' is used to refer to the Oura Ring itself but also the charger, the sizing kit sent out to customers in the beginning ,and the packaging collectively - all the physical elements involved in the product. We take a look at the main tasks the hardware team are involved in such as quantitative user testing (e.g. Conjoint, MaxDiff), prototype testing and data analysis, as well as the goal behind each of them.
Liliia talks strategy and the relevance of A/B testing, interviewing, usability testing and having potential customers try out variants of a future product before deciding to go to market.
00:20:35 What the true iteration process really looks like!
As expected, iteration is an important but messy process. There is a lot of back and forth, and tweaks and improvements before a product can be released. The team have to revisit different stages depending on emerging needs and input received from various sources such as business, users and even technological limitations.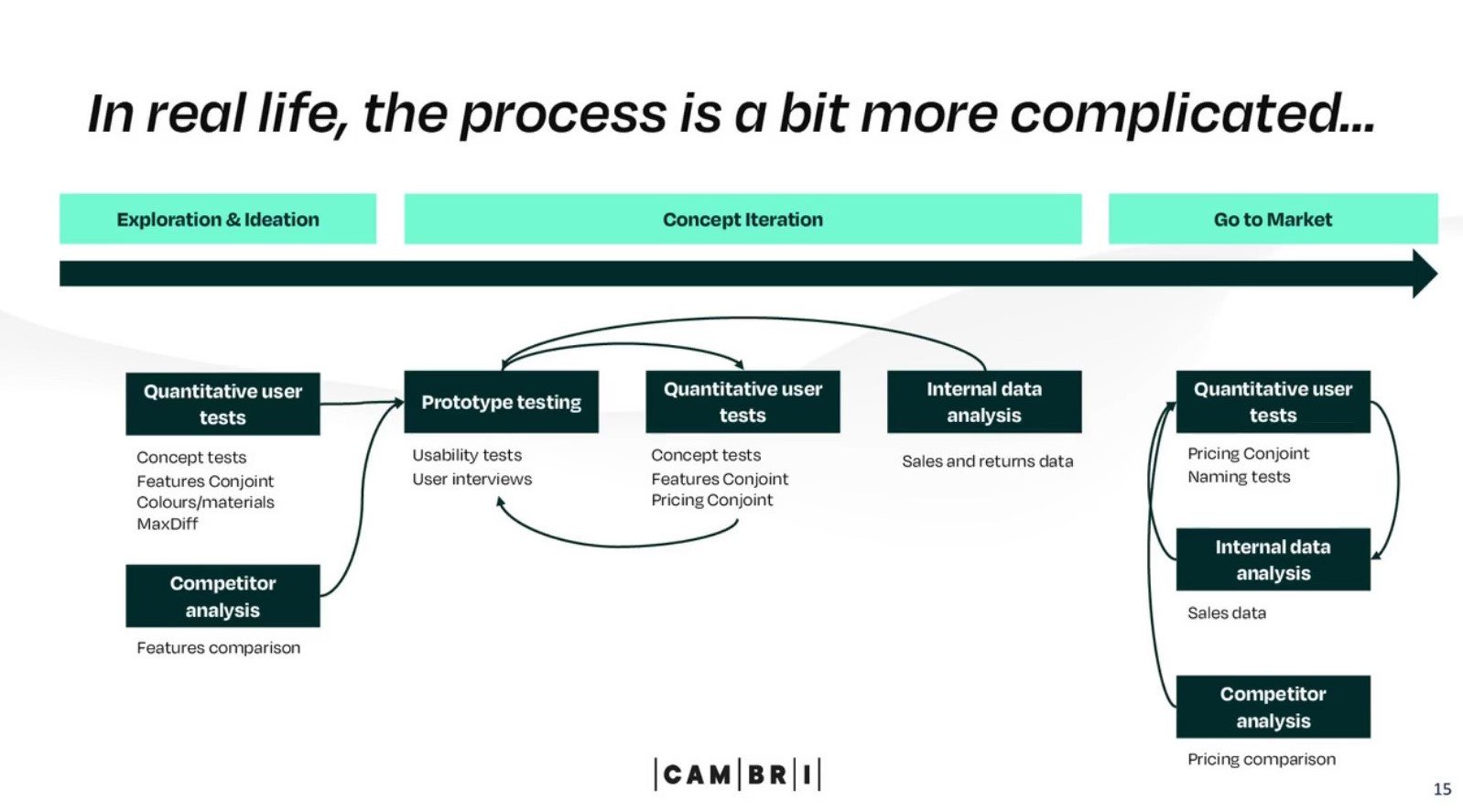 It's important to go through this process to narrow down the hundreds of technical studies going on behind the scenes and include the most viable ones in the concept.
Apramey asks why Oura take a quant approach over qual. Liliia explains that although not ideal, starting with quantitative user testing helps the team learn as they grow. They would love to do more interviews and focus groups in the beginning but there are many limitations, from legal to resources. Starting with quantitative testing is simpler because often they already have multiple options on the table regarding what they can do and what people would like to have. In this way, they can obtain quick feedback in order to prioritise what is most valuable and worth focusing their efforts on. Then, as a separate process, they make sure to understand customers, their behaviours, needs, worries and fears to create tailored products that will be successful.
00:27:45 Destination innovation
Apramey talks us through the role of research at Oura in three phases:

Exploration

Concept iteration

Go to market
This journey is by no means linear and the number of tests performed depends on the stage. In the Exploration phase, it's important to look at basic consumer needs, aims and pains to see where you can fit comfortably into their lives. Oura tries to answer needs concerning health and wellbeing, good sleep and quality of life, and figure out where a smart ring would be more convenient compared to other wearables.
In the Concept iteration phase, they look at what colours and materials resonate well, and which features to prioritise for marketing. They consider what would be most attractive to consumers, as well as which name and tagline to choose. Then, in the Go to market stage, they consider price sensitivity. Different coloured rings have different prices, based on several requirements.
00:31:20
The use of data across the organisation
Research is vital for different teams and departments at the company, including:
Product development - to build the data-driven product
Marketing - to plan the product launch
Finance - to forecast company performance
Strategy - to understand the market and prepare a solid plan
00:35:40 Presentation of 3 case studies
Due to a fire alarm at the Oura office, Apramey begins to present a case study on Liliia's behalf. This first case looks at when the team received an urgent call to narrow down a list of options the marketing team needed to start investigating the following day. Thanks to the rapid turnaround offered by MaxDiff, the team received reliable results in just 24 hours and was able to deliver the shortlist on time.
00:38:40 Getting the design right
Case 2 looks at how Oura identified the winning design for their Horizon ring, launched in September 2022.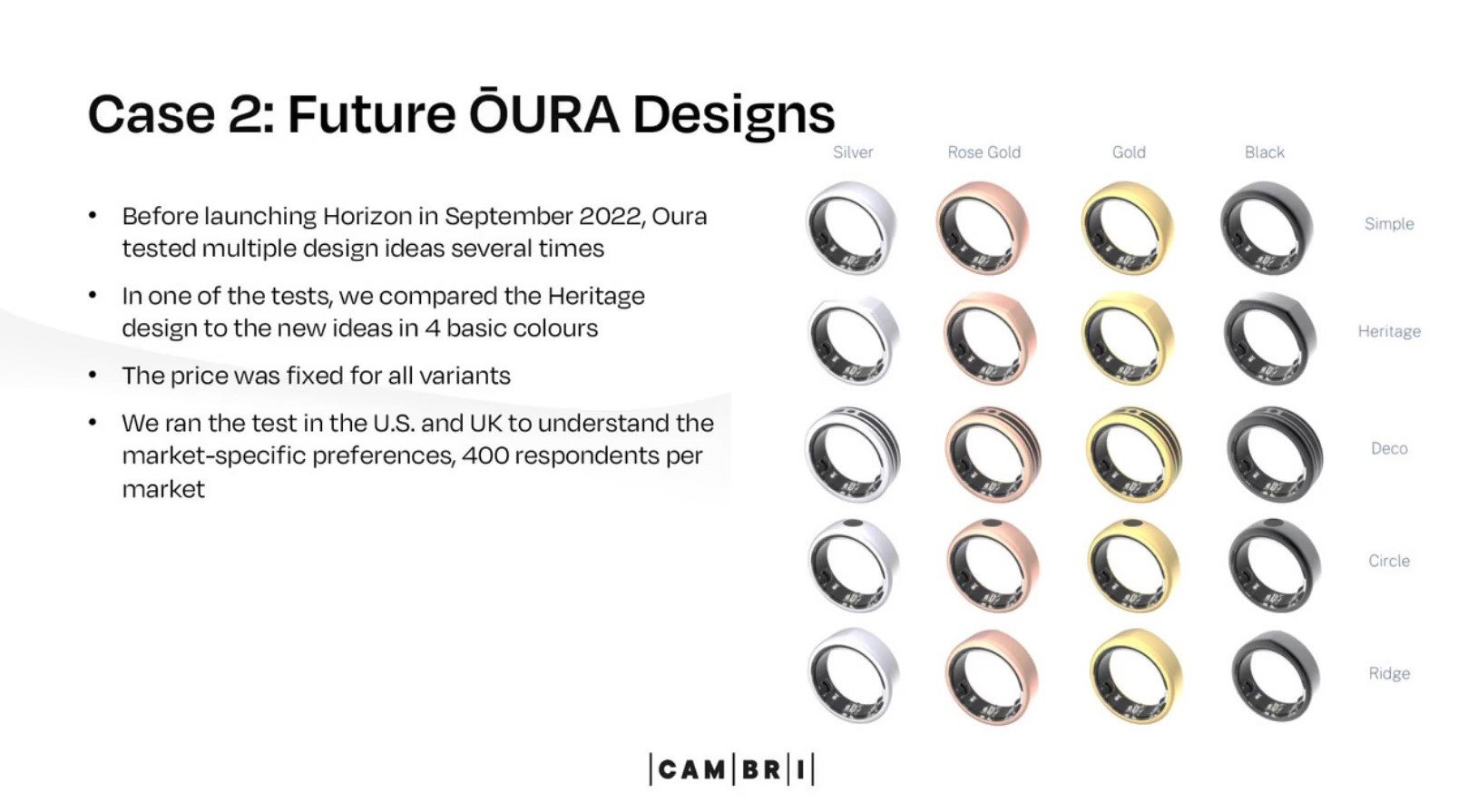 00:40:50 Finding the right features
Liliia makes it back in time to go through the third case, which explains how Oura determines and prioritises features when creating new products.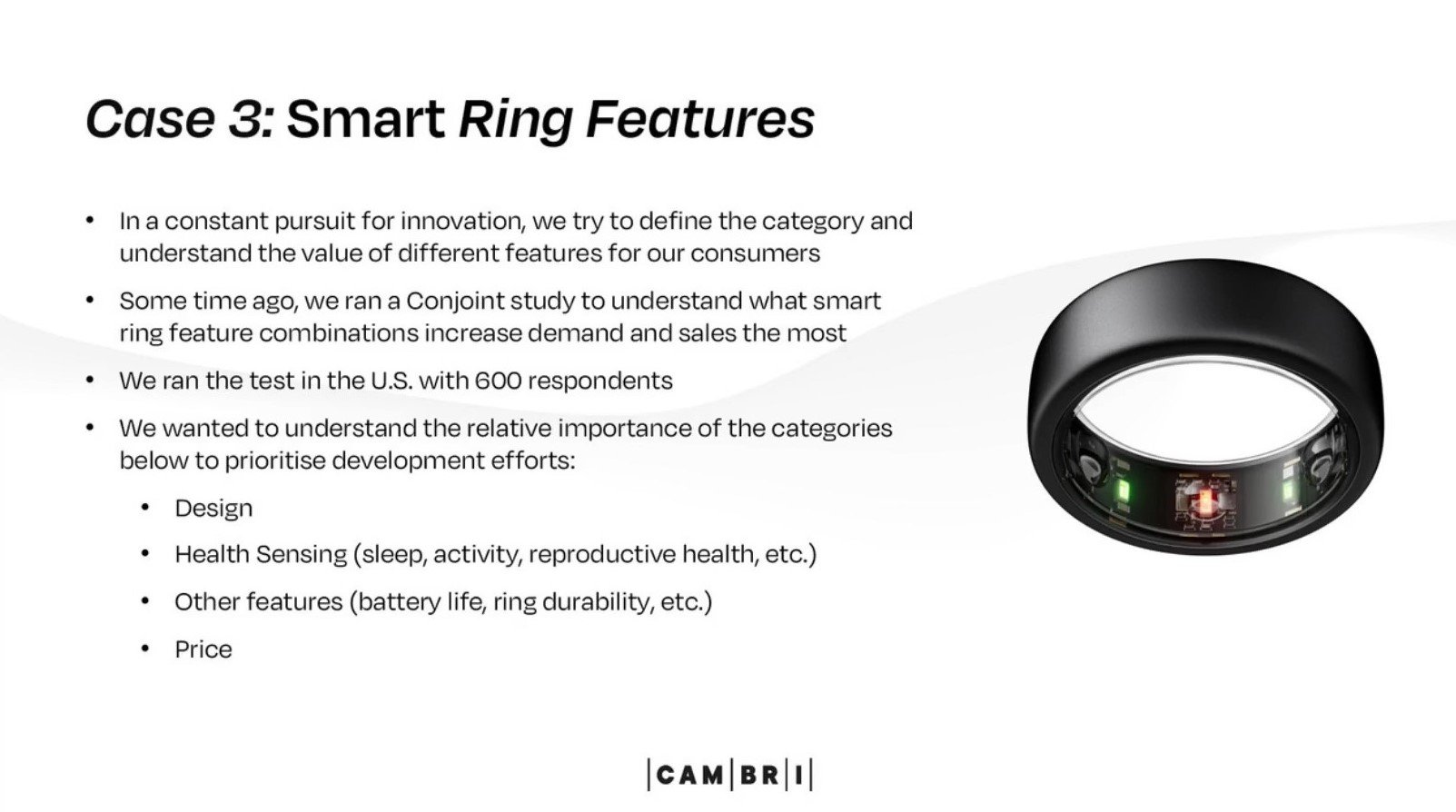 00:50:05 Key takeaways and questions
Apramey brings the webinar to a close with a quickfire question round to Liliia to learn more about her thoughts on Oura and their smart rings. There is also a Q&A from the audience, with several attendees showing an interest in becoming a prototype tester for the brand! Last but not least, we learn what value Cambri adds to the innovation process, namely easy access to consumer insights, faster iteration and more robust decision-making.