How to future-proof your 3–5 year innovation pipeline - webinar overview
This article is about our webinar on how to future-proof your 3 to 5 year innovation plan.
Predicting the future might seem difficult in these turbulent times, but the tools and resources you need do exist. In this webinar, we talk to market strategist Oskar Korkman, who has gathered unique insight into the emerging behaviours of the most forward-thinking individuals around the world. You'll learn which trends to tap into right now and how to become more forward-thinking in your innovation processes.
The past few years have brought about unpredictable events that have demanded fast iteration and action from companies. Even amidst unpredictability, it's a good idea to spend some time anticipating the future.
In this webinar, Dr Oskar Korkman, Market Strategist and Co-founder of strategic management consultancy Alice Labs, shares his insights on the most interesting future consumer behaviour trends. Alice Labs conducted a large study across several markets to discover what kind of choices trendsetter consumers are making right now and what kind of demand is likely to rise within the next three to five years.
Korkman has worked with insights for over 20 years. His agency helps companies navigate uncertainty and understand which innovations are currently worth investing in. In this webinar, you'll learn:
Why it's a good idea to gather mid-term insights
How consumers' relationships with material things are evolving
What kinds of new product and service innovations are worth investing in right now
00:06:10 Why it's a good idea to gather insights on the mid-term future
"Companies have woken up to the importance of predicting the future," Korkman says. He thinks that when companies create predictions about the future, they generally focus on short and long-term future scenarios more than mid-term. He goes on to explain what kind of insights these different time spans can offer:
Long-term insights deliver an understanding of societal context in a given moment. They look at macro-level trends, such as the ageing population, urbanisation or climate change, and their implications for society.
Mid-term insights deliver an understanding of how societal context impacts consumer behaviour.
Short-term insights deliver an understanding of how changes in consumer behaviour then affect a specific industry, products or geographical location.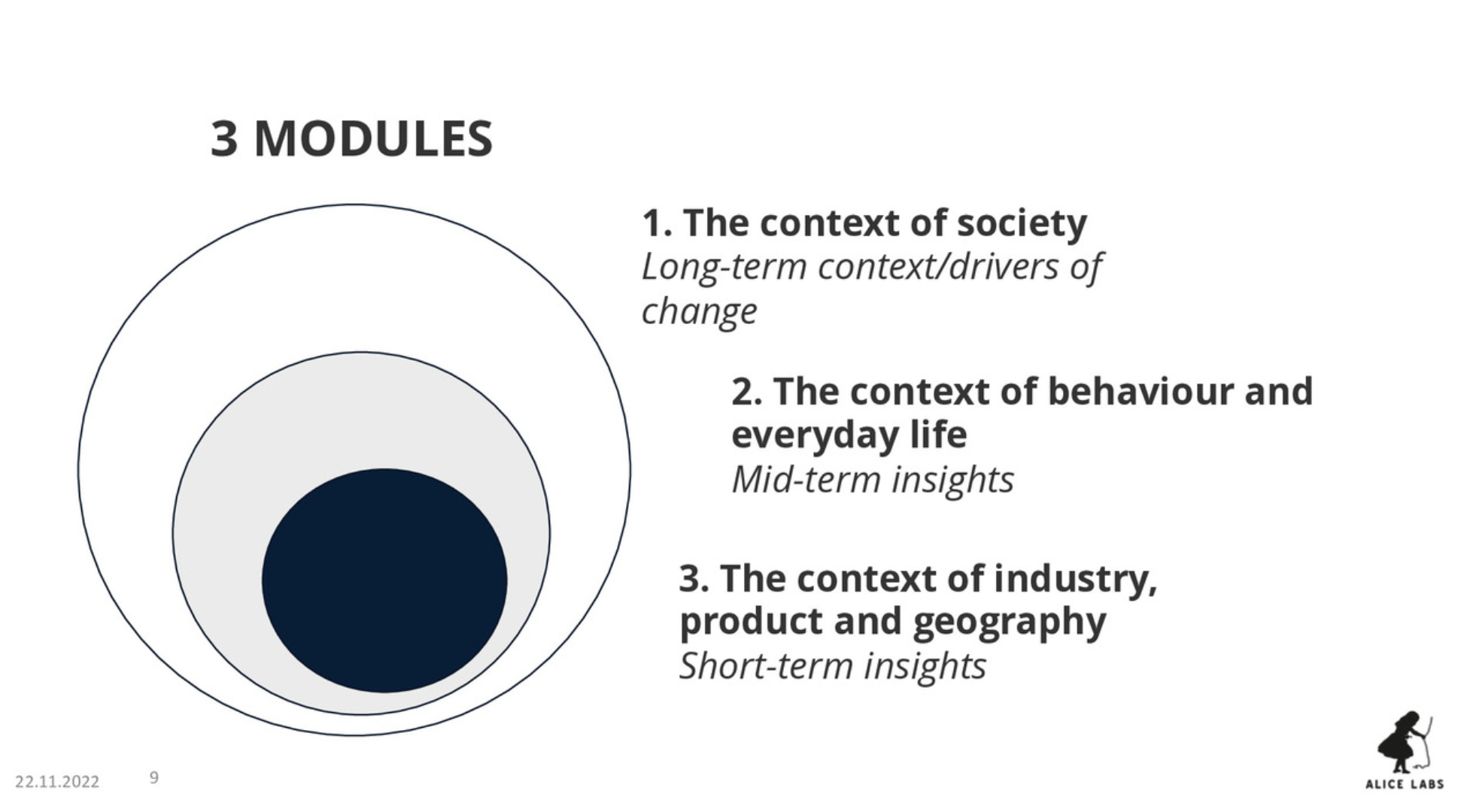 Korkman argues that the future is already present and influencing people's behaviour within a small niche. To gain an understanding of emerging markets, your research needs to focus on the most forward-thinking individuals. They represent the behaviour the masses are likely to adopt within the next five years.
00:12:46 Poll: Where do companies spend most of their research resources?
Which timeline are you most interested in when conducting consumer insight studies for innovation?
Less than one year ahead
1–3 years ahead
3–5 years ahead
More than five years ahead
00:18:30 Introducing the Leading Edge methodology to study the future of consumer behaviour
Alice Labs has developed a model called the Leading Edge methodology. It is used to identify opportunities in the most forward-thinking population – or the "Leading Edge", as they call it. They studied the Leading Edge group for six years and have since developed an algorithm that shows how the adoption of new behaviour works.
The Leading Edge describes people who are ahead of the adoption curve and are known in their social circles as authorities with "knowledge about newness". They are creative, but not radical, and they push for change from within the system.
Korkman explains that studying the Leading Edge is important, even for companies that are not targeting forerunners. These people are those who are indicative of consumer behaviour trends, and that's why it's a good group to study when predicting how consumer behaviour will change.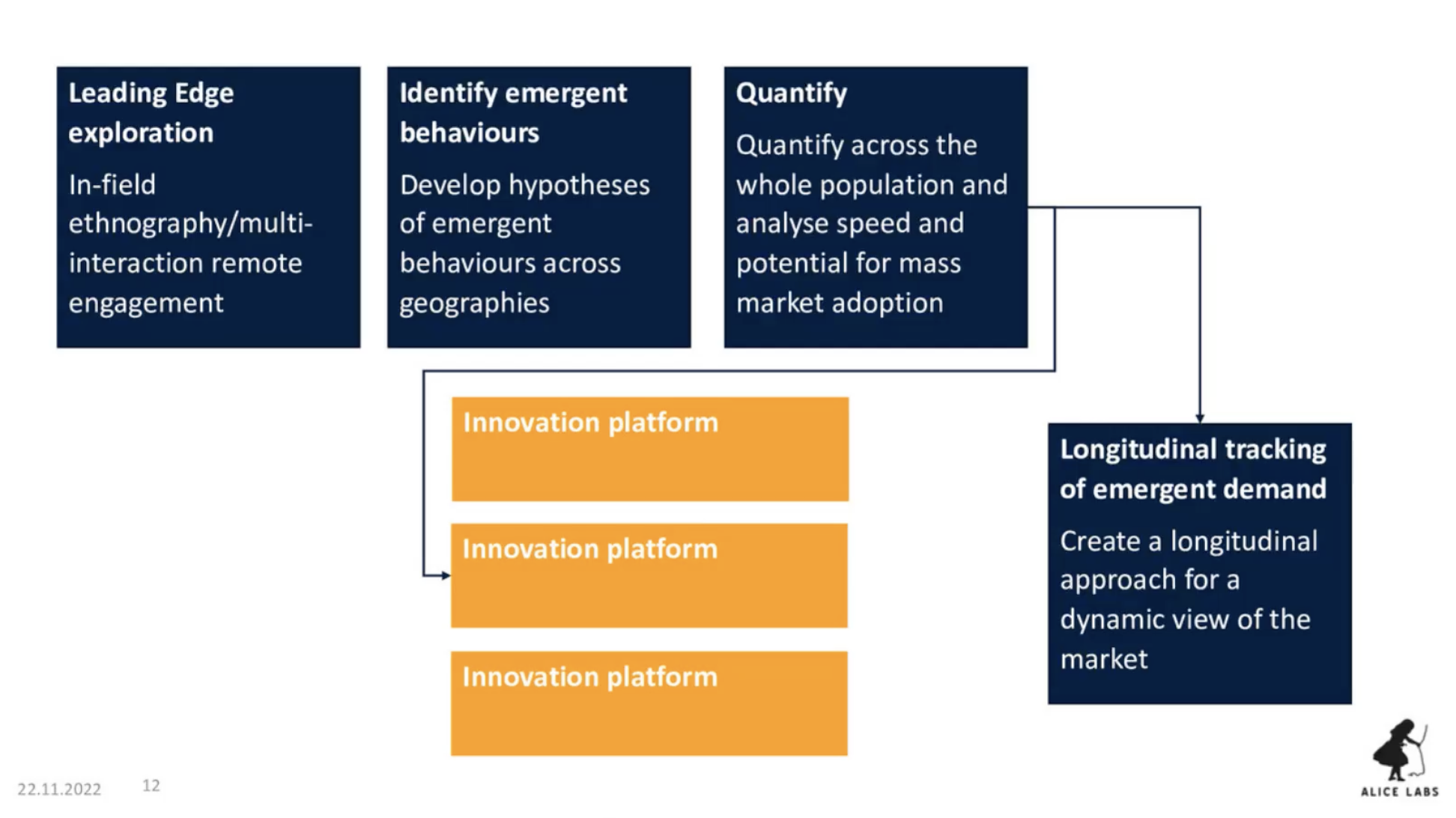 00:26:23 How are people's relationships to the material world changing?
Korkman and his team have spent six years studying the behaviour of the Leading Edge. This meant over 500 hours of field studies in India, the United States, China and Europe. The data included over 15,000 quantitative responses from Leading Edge individuals, which Korkman and his team have used to map out how these people relate to material possessions.
The macro environment behind this research included several societal shifts:
Uneven, but growing post-material values – alternatives to buying
Scarcity of resources – a more sensitive relationship with virgin materials
New experiments around the use of technology, e.g. tokenisation
Growing geopolitical polarisation
COVID-19 with a temporary backlash of, for example, communal values and a heightened tendency for self-reflection
00:29:09 The four identified territories for innovation opportunities
Through their research, Korkman and his team were able to identify four different territories that can serve as inspiration for innovation. They named these innovation platforms Useful Stuff, Joyful Stuff, Stuff Connecting to Nature and Flowing Stuff.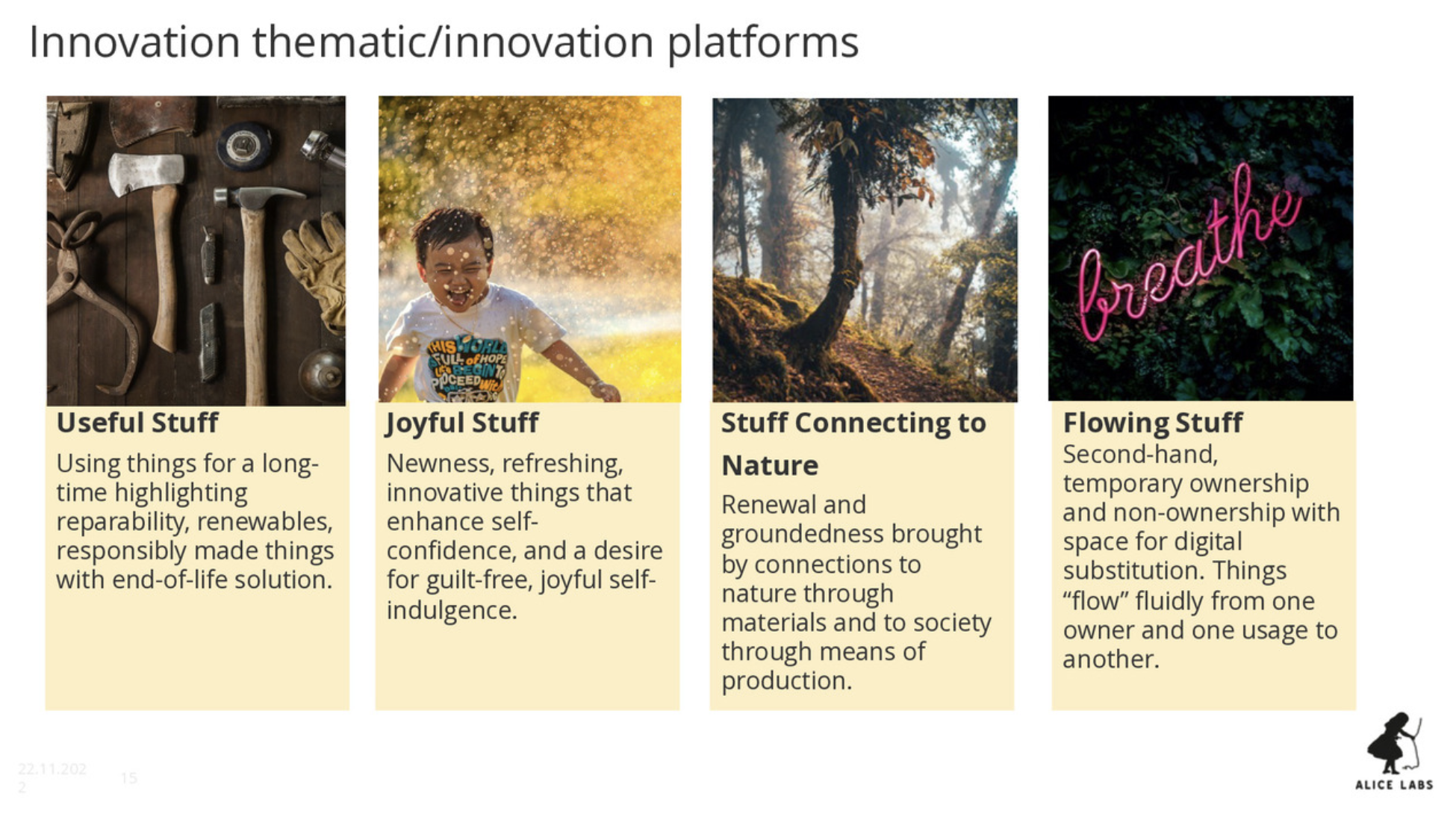 00:35:40 Examples of companies that are already embracing these emerging behaviours
Canada Goose
France's repairability index
Camaïeu jeans

00:40:43 What is important to the Leading Edge when determining the usefulness of products
Korkman presents a trajectory of change to describe the centre of gravity in Leading Edge consumers. The image shows what kind of aspirations are common for the Leading Edge as well as the masses, and what kind of aspirations are visible only in Leading Edge individuals but are likely to be adopted by the masses in the future.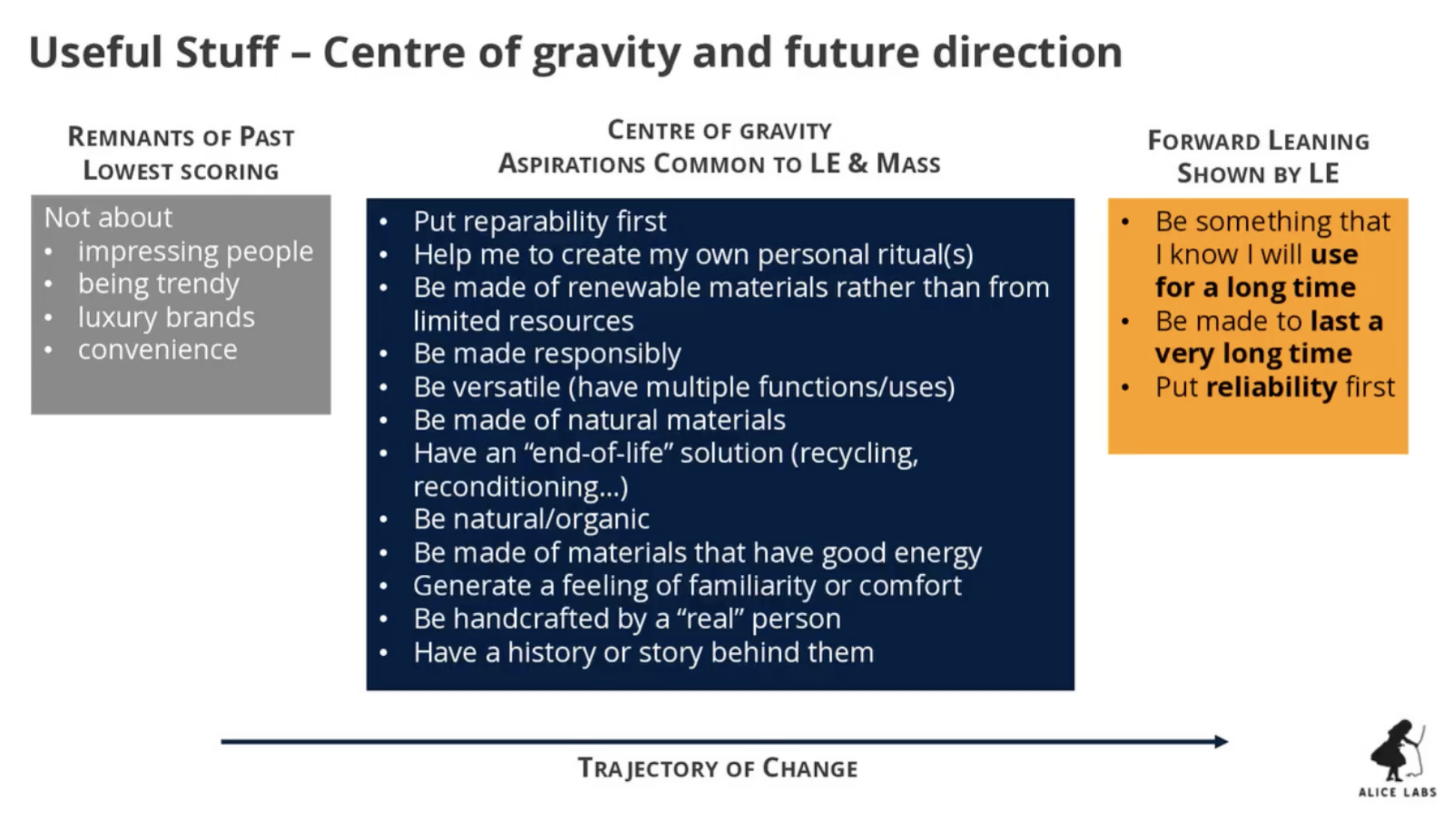 Korkman goes on to explain the three key behaviours of the Leading Edge when determining the usefulness of a product. Watch the webinar to learn what these are.
00:44:14 What implications does the Leading Edge data have for different consumer groups?
The Leading Edge serves as a niche segment that indicates emerging behaviour patterns likely to be adopted by the general population. Korkman presents two interpretations of the data to describe how meaningful the innovation opportunities are within the four innovation platforms, and how these opportunities span across five different income categories.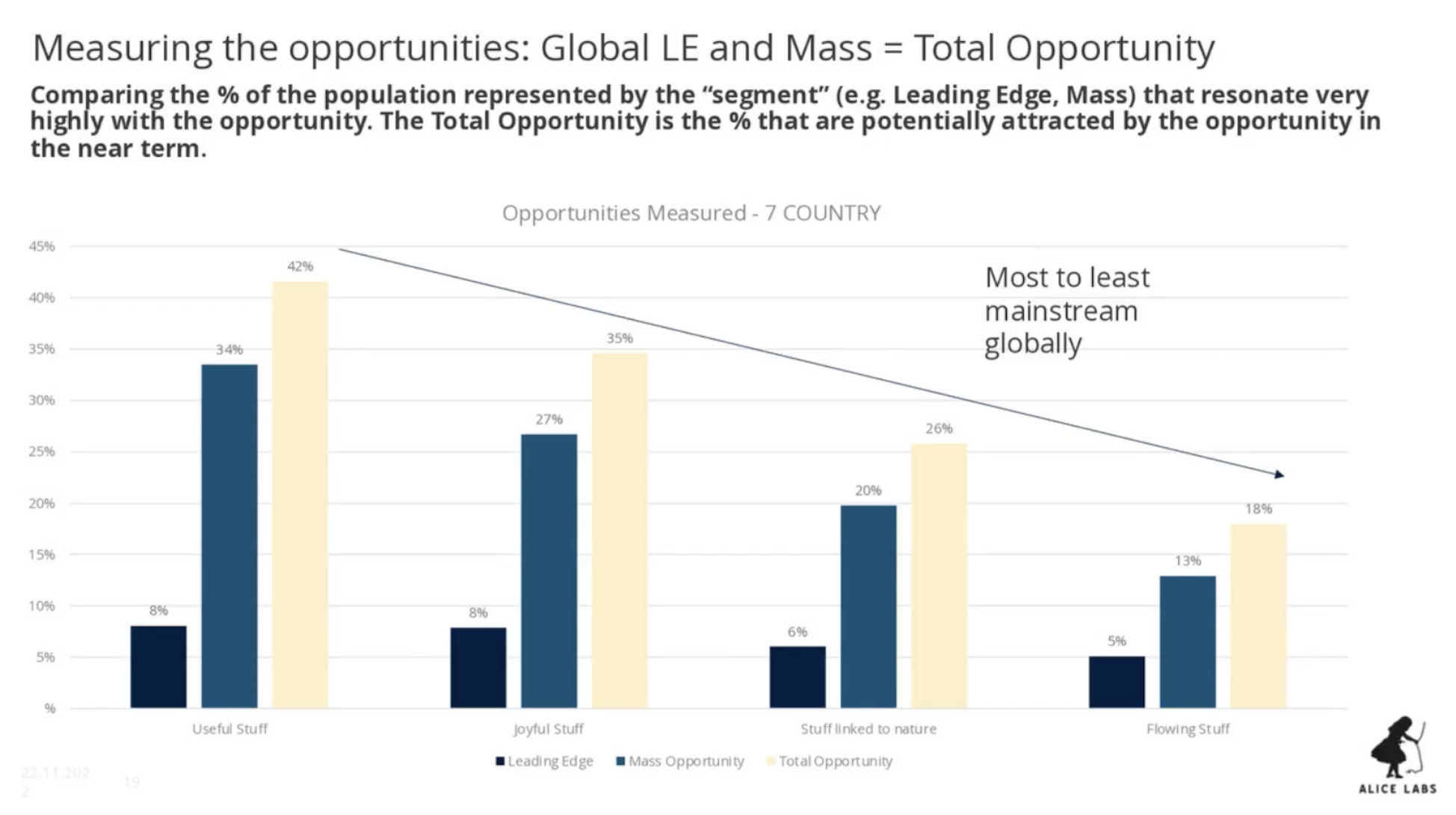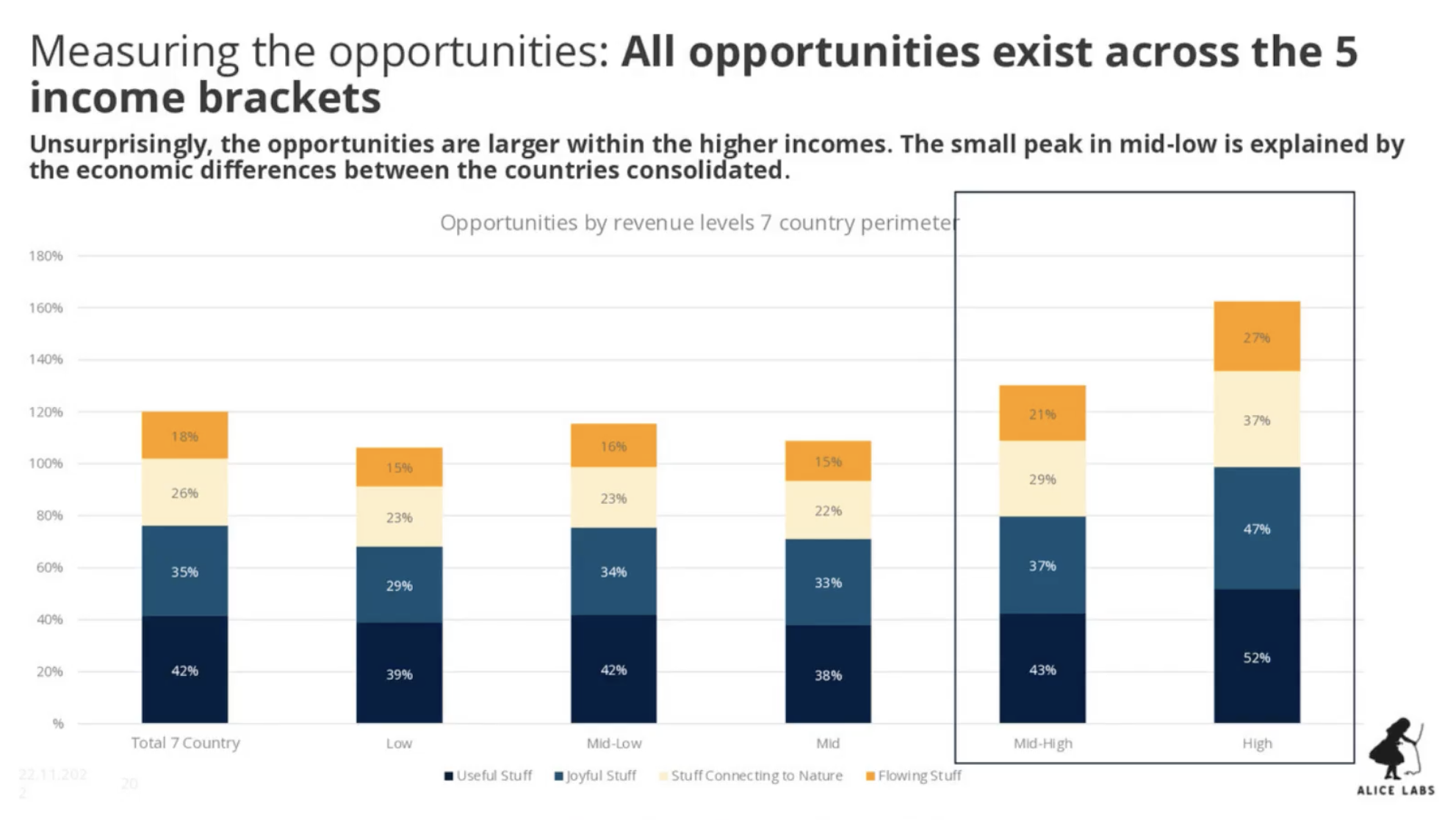 00:47:44 How to combine future anticipation studies with Cambri tests
Alice Labs has been collaborating with Cambri to gather the Leading Edge insights and validate the hypotheses. Cambri's exploration and ideation tests serve companies that want to understand emerging consumer behaviour within the next three years. The concept iteration tests work best for companies that are developing products and ideas and want to understand consumer responses within the next year. The tests in the go-to-market phase cater to a company's needs in the product launch phase. The best insights come from combining all the different approaches at different points of the innovation process.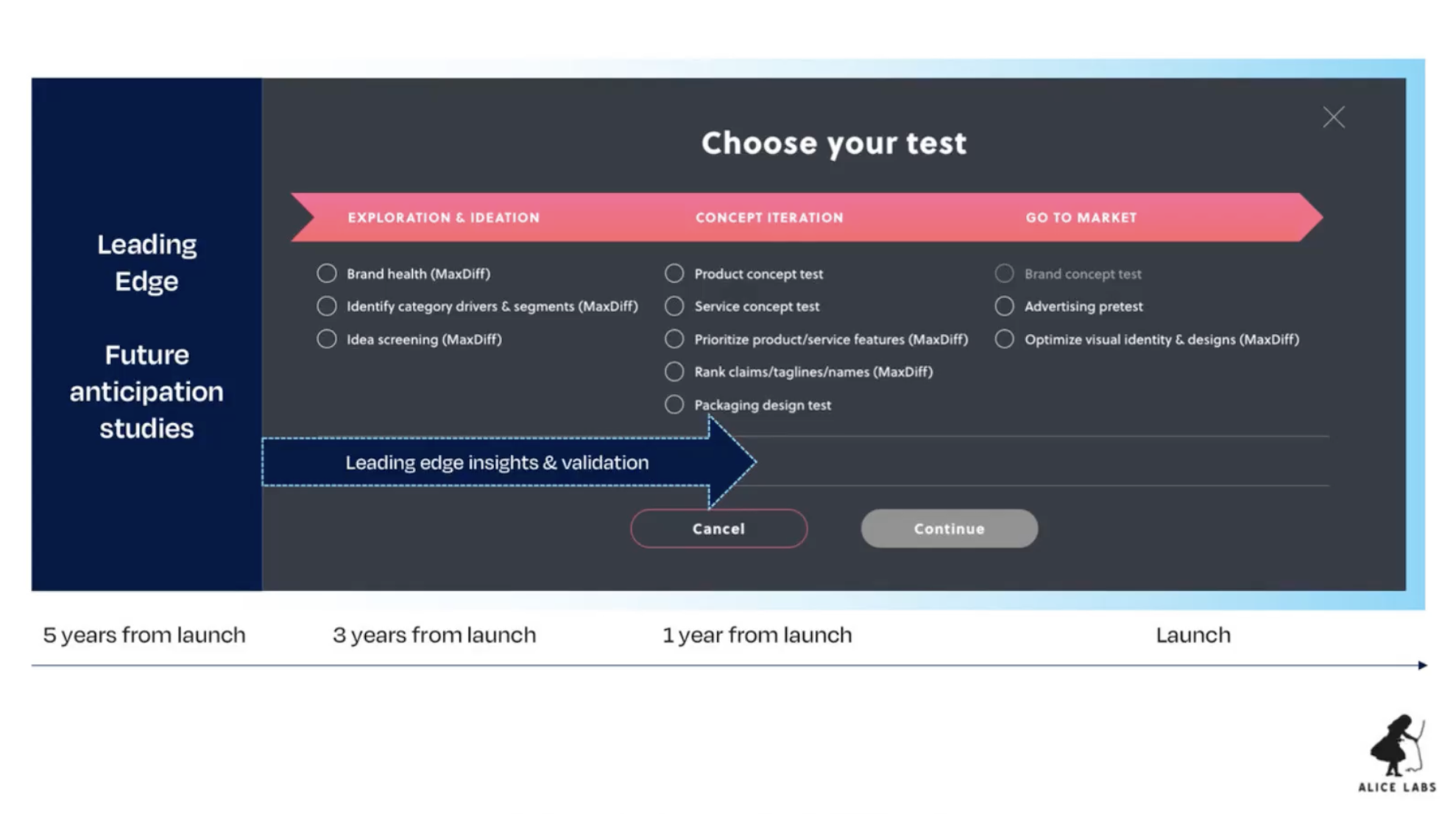 00:51:13 Discussion: What to study right now
Oskar Korkman shares his insight on what companies should currently be focussing their research initiatives on to understand the future of consumer behaviour. The discussion reveals the most important trends in sustainability, the sharing economy and health and wellness (spoiler alert: mental health is a trend that even consumer brands should pay attention to in the near future).
Watch the session to learn where to focus your insight resources right now.
We encourage you to see what other topics we've covered in our on-demand sessions!