How to maximise open text responses with Natural Language Processing - webinar overview
This article is about our webinar on how Natural Language Processing (NLP) rapidly analyses open text answers and extracts the insights you need to create strong products customers love. Read on for a summary of the session or click here to watch the recording.
Our host Anna Sundelius, Customer Success Manager at Cambri, opens the session with some tips on how to get involved in the session, as well as a general overview of what Cambri is for anyone in the audience who is not yet familiar with us.
00:01:50 Meet our speakers
Next, Anna introduces us to today's speakers: Dr Apramey Dube, Senior Research Manager at Cambri, and Dr Tommi Pajala, Data Science Team Lead at Cambri. Apramey is a Consumer Insights and CX Specialist, focused on customer experience and value creation. Tommi is a Machine Learning and Data Science Expert, with an academic background in consumer behaviour.
00:02:25 What's on the agenda
Before diving into the details, we take a quick look at the main topics to be covered in the session:
Why amplify product innovation with NLP?

Overview of Cambri NLP

How to use Cambri NLP

Man vs Machine: How Cambri NLP beats manual processing of open-ended answers

Q&A
00:03:10 Why do we need NLP?
Apramey begins by questioning why we need this exciting solution known as NLP and how it fits in our everyday work. There are many people involved in the innovation process, from customer insights specialists to product managers and brand managers to marketing or even advertising professionals. As Apramey points out, there may come a time in our innovation journey where, regardless of our role, we start to realise that to continue on the right path, we need some deep customer insights. These insights would help us to improve our concept—our product—and ensure it's successful when it goes to market.
00:04:35 Traditional market research methods
Traditional market research practices such as quantitative surveys can help us make decisions by creating a threshold of what's a no go vs what's good to go. Similarly, qualitative research via interviews or focus group studies allow us to better understand consumer thinking and learn what drives people to behave in a certain way.
00:05:50 Why open-ended questions?
No matter your preferred approach, you probably realise the importance of including open-ended questions to gain more background information. This is where you face a dilemma: You want the speed of the quantitative insights but you need the richness of the qualitative research!
00:06:30 Quick insights for agile decision making
Why is this a dilemma? Let's face it: time is money. More than likely you don't have the time or resources to manually analyse hundreds or even thousands of consumer answers. Then again, by just glancing through them in the hope of finding some keywords, you're potentially missing valuable feedback that could make or break your product.
You need a way to get the bigger picture, faster.
But you also want something that lets you maintain the granularity of text analysis so you can access the 'golden comments' during your research process, if needed. After all, these are often the consumer insights that can change the whole direction of the innovation journey.
00:07:50 Why Cambri NLP?
Of course, there are other NLP solutions available on the market. However, Apramey notes that they don't tend to provide sensible outcomes. Perhaps they don't give valuable answers for your category or industry, or the answers are too generic as opposed to answers you can really leverage and incorporate into your product innovation process to start making decisions that matter.
00:08:50 Time for a poll
Apramey asks the audience: "What do you typically do with open-ended answers?"
Ignore them
Go through them one by one
Have a quick glance looking for some keywords
Watch the recording to see how people voted! Spoiler alert: the answer reinforces our need for time and resources to fully maximise our open-ended text answers.
00:09:55 Introducing Cambri NLP
At Cambri, we understand your pain. That's why our experts have developed the Cambri proprietary NLP solution to help you in your market research endeavours. Our AI-powered solution was created based on two very strong sources:
1. Academic research - Our experts invested a great deal of time investigating how consumers create value and make decisions, and uncovering the motives, attitudes, reasons and drivers for their behaviour. This data is then used to create categories within our NLP solution.
2. Real training data - During the creation process, we were fortunate enough to collaborate with real customers who allowed us to use real-life answers from real surveys to train our engine and further improve our NLP solution.
With the push of a button, the Cambri NLP lets you:
Automatically classify open-ended answers into topics - in minutes!
Easily get to know the most commonly mentioned topics
Retain the ability to look at individual responses
Highlight common associations
Amplify product innovation with meaningful learnings from open-ended answers
00:12:20 Overview of Cambri NLP
Apramey gives the stage to Tommi so he can explain the basics of Natural Language Processing.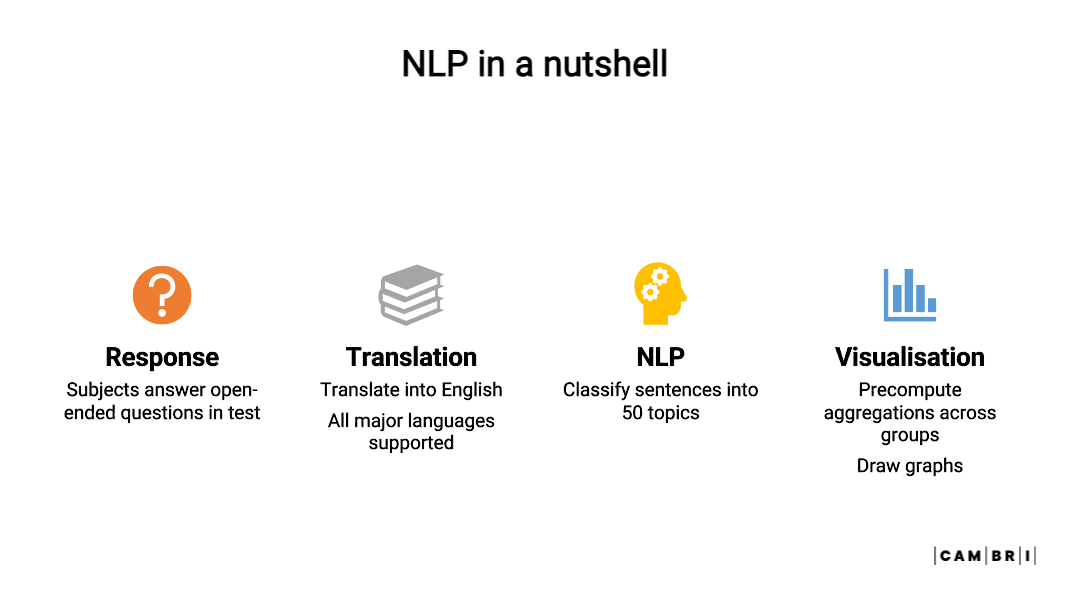 Consumers answer open-ended questions in a survey. There may be tens, hundreds or even thousands of respondents - but that's not a problem! The answers are automatically translated into English (we currently support around 70 languages, including all major languages) and fed into our NLP model which classifies them into topics (at the moment, we have around 50 topics and are constantly evaluating whether to add, remove or merge existing topics to provide the most value without overwhelming or confusing anyone). We then precompute aggregations across groups to create an overview of results e.g. to show open text answers from all people who chose product B as their favourite from options A, B and C etc. (An example of an open-ended question here might be: "In your own words, please tell us why you chose product B?")
00:15:25 Our USP
Clearly, NLP is based on technology. However, if we put tech aside for a moment, we see the topics that open-ended answers are classified into play a key role in making an NLP solution successful. During our research, we couldn't find any solutions that were truly suitable for concept testing or customer insights. Watch the webinar to hear how we classify responses and meet consumer value expectations.
00:19:45 Cambri NLP Taxonomy
Tommi looks more in detail about how customers create value and make decisions.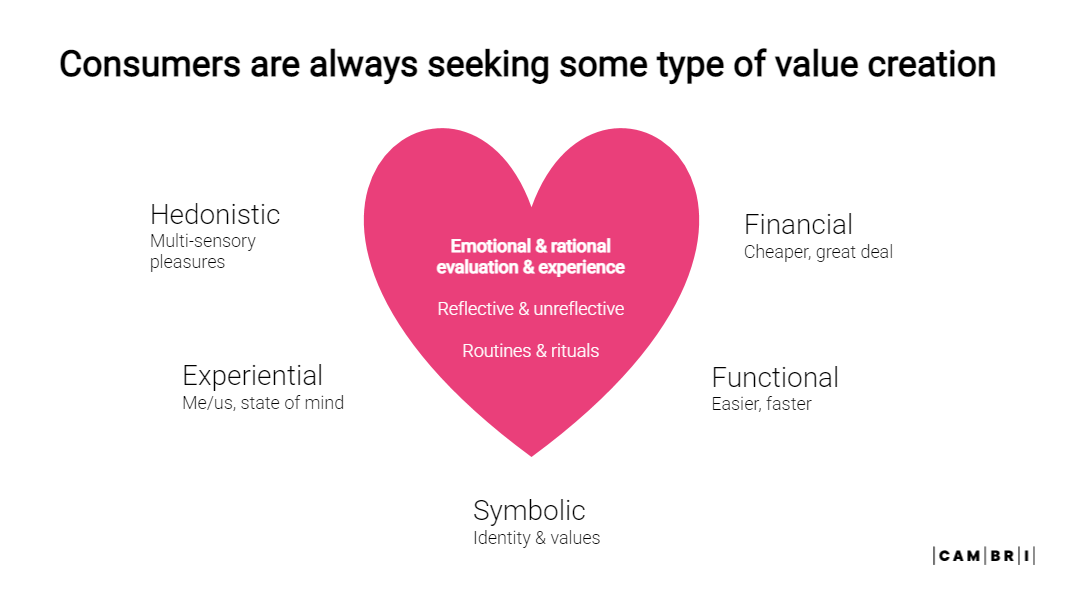 00:27:25 How to use Cambri NLP
We take a look at a demo test ran for packaging design and dive into the importance of categorisation during consumer content analysis. We also see how the Cambri tool presents the results in an easy-to-read overview.
00:35:00 Sentiment Analysis and Word Count
We classify the tone of each customer response and look at the most common words appearing in the open text answers to gauge consumers' immediate feelings and potentially identify competitors.
00:39:50 Man vs Machine!
Tommi gives a breakdown of how Cambri NLP triumphs over manual analysis. The results are eye-opening: Cambri NLP is over 20 times faster! Watch the webinar to see how these results were measured.
00:44:20 Summary of Cambri NLP benefits
In case you weren't convinced, Tommi reminds us of the list of benefits Cambri's proprietary NLP solution offers to both analyse and present open-ended survey responses.
00:49:25 Q&A
Our experts take some time to answer the questions attendees have been posting throughout the session.
Like what you see? Watch the full webinar.
Visit our Webinars page to see what other topics we've covered!