Solar Foods uses Cambri as a concept testing tool to develop and evaluate new and radical ideas
For a science-based food startup, consumer research is a necessity that guides product development and sales. Solar Foods is on a mission to create a food revolution with a novel protein called Solein®. They use rapid concept testing as a tool to help them move in the right direction.
How do we communicate about a product that doesn't exist in the market yet? How do we introduce a foodstuff that is completely novel and challenges consumers' preconceptions of food? These are questions that Anna Häkämies and her team at Solar Foods work with on a daily basis. Solar Foods is a science-based startup focused on creating food out of thin air. The company's bioprocess uses direct-air capture, natural fermentation and renewable energy to create a novel protein called Solein. As the Head of Product Development and Partner, Häkämies is constantly working with ideas that might sound sci-fi and even inconceivable to some people. The company has an ambitious vision to launch the world's most sustainable protein in 2023. Achieving this vision requires ongoing consumer research and rapid, iterative innovation to succeed.
"For us, concept testing is a twofold path. We need to constantly test and develop our product, the Solein protein, to make it better and, at the same time, we need to test people's perceptions of a novel ingredient," Häkämies explains. Solar Foods is a business-to-business company whose primary customers are food manufacturers. However, when purchasing new and innovative food ingredients, manufacturers want to understand how consumers will react to these ingredients. Therefore consumer research is a necessary part of innovation at Solar Foods. Häkämies and her team use Cambri to test different product qualities, ranging from the colour of the protein to brand attributes and messaging.
"We know that in the dairy products category consumers are used to products being white. As the Solein protein has a yellow tone, we wanted to understand how consumers would react to it being used in this category," Häkämies explains. With the help of Cambri tests, the company keeps learning from consumers' expectations and motivations. "The best part of Cambri is that we get results very fast. It's also cost-effective: we can get reliable results with a reasonable investment."
How to do radical innovation – three tips from Anna Häkämies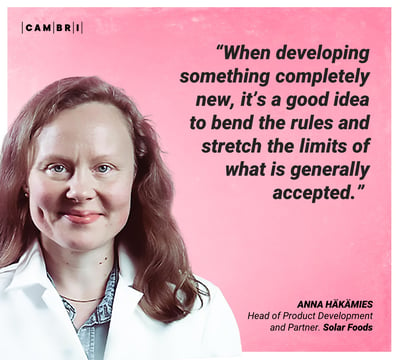 In a company like Solar Foods, innovation is not a process but a mindset with a commitment to rapid iteration. Häkämies is in a continuous cycle of iterative innovation, both testing early hunches and developing and testing defined products. Anna Häkämies offers her tips on how to do radical iterative innovation and thrive in an insecure market.
Explore with an open mindset.
"When developing something completely new, it's a good idea to bend the rules and stretch the limits of what is generally accepted."
Test all ideas.
"I get ideas all the time and write them down on a piece of paper or on my phone. Then I go to the lab, start testing and see what happens. Usually, what happens is different from what I expected as iteration proceeds, but something interesting might come out of it."
Try things just for the sake of trying.
"Don't try to get it right the first time and accept imperfections. Starting without too many expectations is the way to discover something new."